Oman City Bus Route 6: Burj Al Sahwa – SQU to Al Khoud Timetables, Route Maps, Stops, Schedules, Frequency
Oman City Bus Route
Website: https://mwasalat.om
Timing & No of Trips: Every 30 mins
Ticket Price
Oman City Bus Route 6(Bus Stops)
Al Khoudh Park
Al Nadi Roundabout 1_1
Al Salam Roundabout_1
Al Khoudh A_1
Al Khoudh Souq_1
Jamma Sultan Qaboos_1
Al Muwada Roundabout_1
Mazoun Roundabout_1
S.Q.U Gate No 1_1
Al Khoudh 6 C_1
Al khoudh 6 B_1
Al khoudh 6 A_1
S.Q.U Hospital_1
S.Q.U Gate No 2_1
Al Mawaleh South D_1
Lulu Hypermarket_1
Al Mawaleh South B_1
Al Mawaleh Rusayl Bridge_1
Al Mawaleh Central Market_1
Al Mawaleh South A_1
Opposite Burj Al Sahwa
Burj Sahwa City Bus Station
Oman City Bus Route 6 Map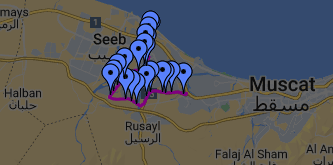 View the List of Bus Routes in Oman Timetables, Maps and Schedules through the above link.
Download Mwasalat app from Google Play store, Android/ Apple Store. ios, Mac


Contact Mwasalat on Social Media
Is there any problem/complaint with reaching the Oman Bus Route 6: From Burj Al Sahwa – SQU to Al Khoud Timetable, Frequency, Route Maps? Please report any issues using the below comment form.
Rate your experience with the Oman Bus Route 6: From Burj Al Sahwa – SQU to Al Khoud: (click on the stars below)