Hong Kong Island CTB Route / Line: 91 runs between Ap Lei Chau Estate ↔ Central Ferry Piers and Vice Versa Frequency Timetable
CTB (Citybus) Route 91: Ap Lei Chau Estate -> Central Ferry Piers Bus Stops
利枝道 Lee Chi Rd.
鴨脷洲徑 Ap Lei Chau Drive
利東邨東興樓 Tung Hing House Lei Tung Estate
利東街市 Lei Tung Market
漁安苑 Yue on Court
逸港居 Ocean Court
香港仔海濱公園 Aberdeen Promenade
香港仔魚類批發市場 Aberdeen Wholesale Fish Market
田灣街 Tin Wan Street
華富道 Wah Fu Road
余振強紀念第二中學 Yu Chun Keung Memorial College No. 2
薄扶林村 Pok Fu Lam Village
薄扶林水塘道 Pok Fu Lam Reservoir Rd.
嘉林閣 Woodbury Court
心光學校 Ebenezer School
瑪麗醫院 Queen Mary Hospital
香港華人基督教聯會薄扶林道墳場 Hkcccu Pok Fu Lam Road Cemetery
摩星嶺道 Mount Davis Rd.
富林苑 Fulham Garden
蒲飛路 Pokfield Road
何東夫人堂 Lady Ho Tung Hall
香港大學百週年校園 Hku Centennial Campus
聖士提反堂中學 St. Stephen's Church College
第二街 Second Street
西區警署 Western Police Station
正街 Centre Street
東邊街 Eastern Street
修打蘭街 Sutherland Street
港澳碼頭 Macau Ferry
中環(林士街) Central (Rumsey Street)
國際金融中心商場 Ifc Mall
中環碼頭總站 Central (Ferry Piers) Bus Terminus
CTB (Citybus) Route 91: Ap Lei Chau Estate -> Central Ferry Piers Route Map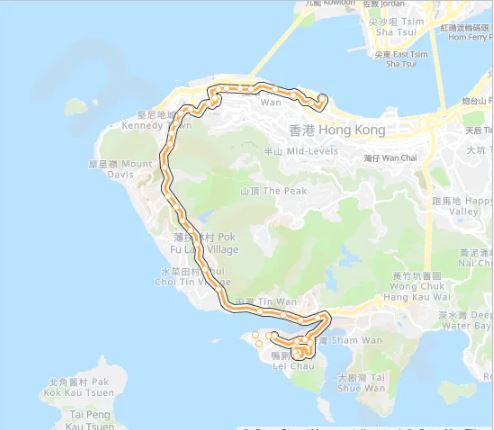 CTB (Citybus) Route 91: Central Ferry Piers -> Ap Lei Chau Estate Bus Stops
國際金融中心二期 Two International Finance Centre
中環(交易廣場) Central (Exchange Square)
恒生銀行總行 Hang Seng Bank Head Office
中環中心 the Center
荷李活華庭 Hollywood Terrace
上環文娛中心 Sheung Wan Civic Centre
帝后華庭 Queen's Terrace
修打蘭街 Sutherland Street
正街 Centre Street
西邊街 Western Street
李陞小學 Li Sing Primary School
香港大學西閘 Hku West Gate
何東夫人堂 Lady Ho Tung Hall
蒲飛路 Pokfield Rd.
薄扶林道遊樂場 Pok Fu Lam Road Playground
香港華人基督教聯會薄扶林道墳場 Hkcccu Pok Fu Lam Road Cemetery
瑪麗醫院 Queen Mary Hospital
心光學校 Ebenezer School
明德村 Middleton Towers
薄扶林水塘道 Pok Fu Lam Reservoir Rd.
薄扶林村 Pok Fu Lam Village
余振強紀念第二中學 Yu Chun Keung Memorial College No. 2
華富道 Wah Fu Rd.
田灣街 Tin Wan Street
聖伯多祿堂 St. Peter's Church
漁暉道 Yue Fai Road
業漁大廈 Yip Yee Mansion
香港真光書院 Hong Kong True Light College
利東邨東興樓 Tung Hing House Lei Tung Estate
利東街市 Lei Tung Market
鴨脷洲徑 Ap Lei Chau Drive
利枝道 Lee Chi Rd.
View the list of Bus routes in Hong Kong Timetables, Route Maps, Schedules, Operator name through the above link.
Is there any problem / complaint with reaching the CTB Route 91: Ap Lei Chau Estate to Central Ferry Piers Timetables, Maps, Schedules in Hong Kong? Please report any issues using the below comment form.
Rate your experience with the CTB Route 91: Ap Lei Chau Estate to Central Ferry Piers Timetables, Maps, Schedules in Hong Kong: (click on the stars below)